Medivet Biologics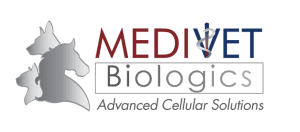 We have added stem cell therapy to our arsenal of treatment options. Stem cells are the body's natural repair cells. Most of the research on stem cells has dealt with arthritis relief, but improvement has also been seen in such conditions as allergies, thyroid conditions, pancreatitis, tendon and ligament injuries, urinary incontinence, even kidney disease.
Our hospital strives to provide the most advanced medicine available to improve the quality of life for our patients.  Regenerative medicine allows us to use the patient's own healing powers and put them to work to help heal damaged tissues. The stem cells are harvested from the animal's own fat. There are no ethical issues associated with these stem cells since we are using your pet's own stem cells.
Regenerative medicine may be the answer if your pet is experiencing the following:
Lameness
Decreased activity level
Difficulty using stairs
Difficulty getting in car
Inability to get in bed or in general getting off the floor
Regenerative medicine consists of PRP and Stem Cell therapy, which can be completed in one day at our hospital. 
Platelet Rich Plasma (PRP)
PRP uses plasma, which is a component of blood and concentrates a cell fraction called platelets. After centrifugation and removing the other components of the blood the remaining plasma is re-injected to stimulate the healing. 
The cells are harvested, processed, and administered the same-day, resulting in more viable stem cells and better treatment efficacy. We also have the ability to send off extra stem cells to bank for future use, eliminating the need to repeat the harvesting procedure if a future treatment is needed.
Stem Cell Therapy
Stem cells are cells that are present in our body that can change so that they can grow into almost any tissue in the body and heal any damaged areas.  The stem cells are harvested from the animal's umbilical fat or body fat and processed in house so that they can be reintroduced to the patient the same day. Most commonly these cells are injected into affected joints where they began to heal the joint as well as decrease inflammation the joint. 
Benefits of Regenerative Medicine
PRP and Stem Cell Therapy have proven to be effective in restoring motion in joints, relieving pain, and improving quality of life of our patients. Risks involved with the procedure are virtually non-existent due to the fact that all the healing properties we are using are coming from your pet. Rejection does not occur because we only inject your patients healing substances. 
Regenerative medicine is used to treat conditions such as:
Osteoarthritis
Tendonitis
Hip Dysplasia
Cruciate Tears
Future treatments for allergies, atopy, and pancreatitis along with many other ailments may be possible.  
Please feel free to contact us to see if your pet is a candidate for PRP or Stem Cell Therapy. We will evaluate your animal and provide a FREE consultation to further explain the tremendous benefits of regenerative medicine over traditional arthritis treatments
The improvement in dogs with arthritis is incredible! These videos show the difference between before and after treatment seen with stem cell therapy.
Before and After Videos
Testimonials
Here are some testimonials from the MediVet website: Success Stories.