Todd Paczosa, DVM

Veterinarian
I graduated from Kansas State College of Veterinary Medicine/Surgery in 1994 and started my career at a mixed animal practice in another town. I grew up in Duncan, NE and always had a goal of coming back home and opening my own hospital. Since I can remember the only thing I ever wanted to do was become a veterinarian and work with all animals from farm animals to exotics. I have two daughters and a son who are all interested in veterinary medicine as well and enjoy helping out at the hospital and adopting any animals they are allowed to take home.
In 1998 I started Redstone Veterinarian Hosptital with the goal of providing the best medicine and surgery available alongside compassionate care; understanding that our pets are part of our family and that's the kind of care our clients have come to expect. We also strive to provide the most updated care possible and that was the reason we added suites to our hospital so that our clients could leave their companions and know that they would be as comfortable as possible while they are away. My mission at the hospital is to provide the most current and uncompromised quality pet health care available.
Jean Forsberg, Office Manager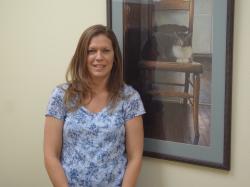 Jean Forsberg grew up in Cedar Rapids, NE and earned her Associates Degree at Central Community College before finding her place as an office manager at Redstone Veterinary Hospital. Jean enjoys spending time with her husband Matt and their children Emily and Gavin, along with their 3 dogs, Ella, Molly and Blossom, and their cat Cody. Being a part of the team at Redstone Veterinary Hospital has been a true enjoyment, and Jean truly loves what she does, which is not only working with the animals but especially the people. Jean spends her free time with family and friends, enjoys anything outdoors, listening to music and keeping up with current events.